This blog post is proof that I will do anything to create new content, including the consumption of new products that may or may not be good for me. One such product is Sealand Birk's new organic birch water imported with love from Denmark.
99 cents
I was cruising the snack aisles at London Drugs recently and my favourite coconut water wasn't on sale. Then I saw the cool slim cardboard 250 mL cans of Sealand Birk's organic birch water. It was on sale for 99 cents; regular price $2.99. I tested the original version but there are many other flavours: Elderflower, Ginger & Lime, Blueberry, Raspberry, Lemon/Mint and Rose. London Drugs only offered the original version.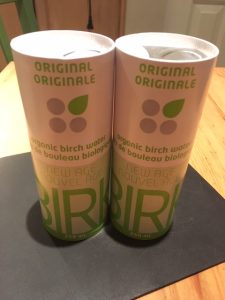 The Nordic birch forest trees get tapped in early spring when the sap starts running but before leaf-out happens.
This is what the Sealand Birk website says:
Discover the qualities and natural taste of delicious birch water, tapped from the tree. Sealand BIRK connects with your body and supplies not only great taste but also the true, organic sweetness of nature's own hidden treasures.
Harvested from birch trees in Taiga forests of Finland and Lithuania. Birch water is a sweet, healthy and certified organic alternative to artificially sweetened beverages.
Low on Calories
Contains plenty of organic naturally occurring antioxidants, electrolytes, trace minerals, xylitol, fructose and vitamins that is easy for your body to absorb and enjoy. You benefit from nature itself.
Sweetened by Nature
The taste is fresh and you can experience it without any second thoughts: Sealand BIRK is naturally low on calories. The pure birch water is harvested in early spring at the perfect moment to maximize nutritious value. The taste is refreshing packed with nutrients and organically sweet.
Born on Organic
No preservatives, no additives. Sealand BIRK is born organic. There is no point in trying to improve on nature. Sealand BIRK is a new age beverage for the international consumer market
Vas survives
The first taste of the original version was interesting. It was like water with a hint of lemon. I wish I could describe it better but I'm a landscape blogger, not a food critic. The second can went down well and the next four were totally fine. At 99 cents per can it's a steal but not at the regular $2.99. At that price I will buy coconut water again.
If you see Sealand Birk organic birch water on sale anywhere, give it a try. It's an interesting drink.