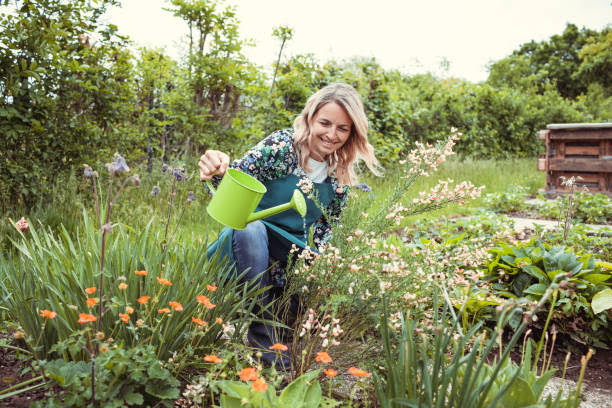 Worth your time!
I picked up Ellen Mary's book "The joy of gardening" in audio format on Audible.com. And I'm glad I did. It was a nice listen while I worked outside in the landscape. I actually listened to it again today while weeding a residential garden for a client.
The book is written for people new to gardening and it covers every angle but it doesn't mean that more experienced gardeners can't learn something. I know I did. For example, I had never heard of bulb lasagnas until I listened to this book. You can read my blog post about it on my West Coast Landscape Pro blog. Briefly, it involves planting different kinds of bulbs in one pot. The top layer flowers first, and so on down the pot.
Mental health
Ellen Mary's background is, among other things, plant therapy and it shows. While this is a book about gardening, she does bring in mental health issues. And it's done well. It doesn't distract you from gardening issues; and if you need help with your mental health, then it will help you.
For example, when Mary explains how to thin out seedlings she suggests letting go of negative issues in your life with every seedling you eliminate. She also describes how she mows her lawn by concentrating on the physical task of mowing without thinking about anything else.
She also touches on the Japanese concept of "shinrin-yoku" or forest bathing. By now it's a well-known topic covered in many books. The main idea is that a walk in the woods is good for people and the Japanese have study data to back it up. For example, blood pressure drops nicely once people enter the forest.
Interconnection
Now, I know you're focused on your own garden, whatever its size. However, Mary's book reminds you that we are all connected. Even if your garden is very humble, it will provide homes for insects, birds and small animals. Weeds might cause panic for you but pollinators might still enjoy them.
Also, your garden gives back through beauty and contact with soil. You're encouraged to relax in your garden and observe what's going on.
Conclusion
Ellen Mary's book is a nice gardening primer for beginners. She covers all angles so you can relax and learn as you read or listen. There are lessons hidden in the book that even experienced gardeners will appreciate.
The narrator does a great job, too. If you're looking for a new book on gardening, you can't go wrong with this one. Yes, Ellen Mary is from the UK but everything in the book applies to Canada. Don't worry.
Happy gardening!