Sweetgum prologue
Across the street from my building is a strip of lawn, squeezed between a recreation center parking lot and the road. Then, one day, the city of Port Moody planted three sweetgum trees (Liquidambar styraciflua) there. I clearly remember this because the stakes were placed ridiculously far from the trees. They did nothing for the trees; and I fully expected kids to get clotheslined on the arbor tie. My picture of this poor staking job made it into level 1 apprentice courses. Without permission.
Weeks later, the trees went missing!? I never found out where they were moved.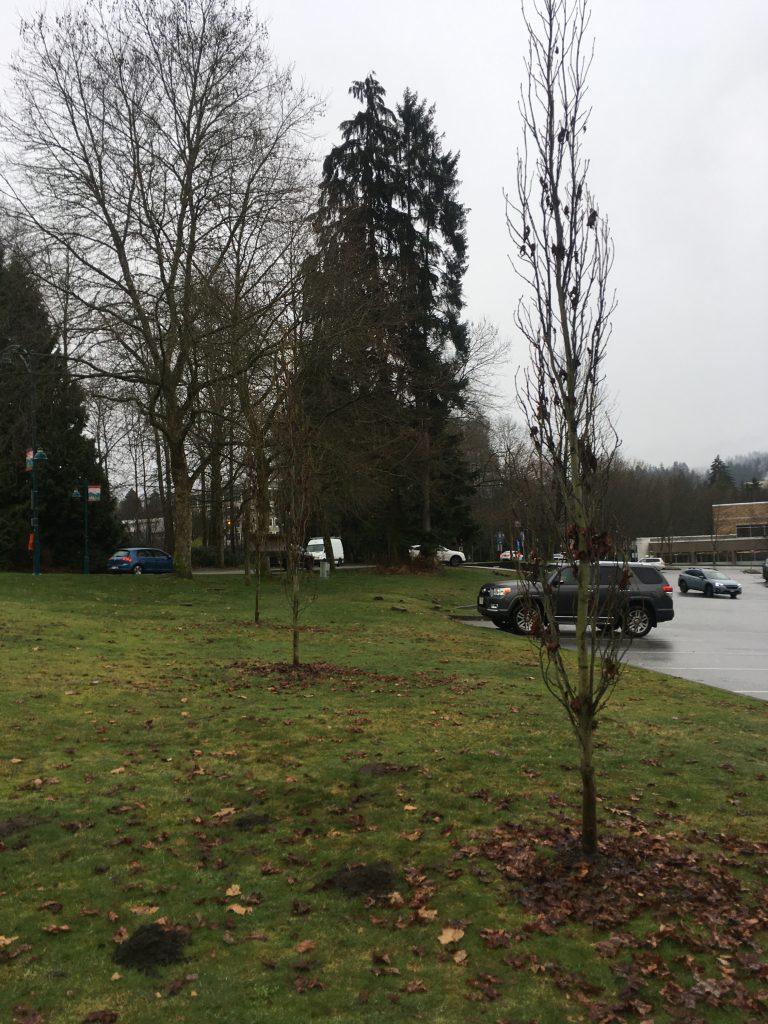 A new community garden
Once the city installed raised beds on the lawn, it all made sense. And it was also clear that I was way too slow to get in on the garden lottery. I'm a busy man. But I'm happy to report that every single plot has been well used, mostly by women of a certain age.
Creating a new community garden is a great project anytime but it's especially important during a pandemic. People can be outside fairly safely and taking care of plants gives them some measure of control, just as things seem to be spinning out of control.
One nice touch are the planted borders between the plots and parking stalls. They're planted in perennials and add color, something vegetables can't really do.
The city added a water source, which is critical because I expect summer 2022 to be hot. I'm not sure what happens to the green waste. I imagine the city hauls it away.
Considering the garden's location, I wondered if some of the harvest would go missing under cover of darkness. Since I haven't heard anything, I'm assuming the owners got to enjoy their harvests.
When I had a tiny rented plot in Burquitlam years ago, teenagers would stop by to collect apples in broad daylight. Who knows what else went missing.
A great idea
When the City of Port Moody planted sweetgum trees in a lawn across the street, with poorly installed stakes, I shook my head every time I walked by. Then the trees went missing and I shook my head some more. Wasn't this a waste of money and labor.
Then the city installed community garden plots and life made more sense. The garden is well-used and the buffer zones are planted in perennials. So now we have some color visible from the road and from the recreation center parking lot. It may just brighten up our pandemic life.