The wait is over
Finally, as of September 2023, you can access the Red Seal journeyman horticulturist exam preparation workshop online. Simply buy your study manual ($30 plus tax) online and get free access to on-demand one hour video recording. In the video, Egan Davis covers the crucial material people mess up on the Red Seal exam. This is absolute gold, especially for people challenging the exam. Apprentices who go through all four levels are in better shape but I still recommend this course to anyone planning to sit the Red Seal exam.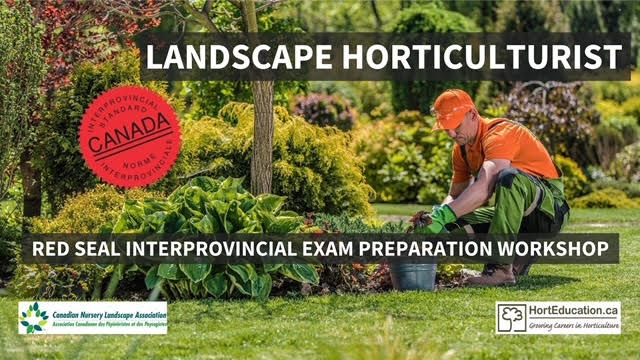 Old style
In 2014 I did it the old way, in the classroom. The preparation workshop took place at Kwantlen Polytechnic University and it took all day. It was also nice to see the group discussions which is one thing you can't do with online, on-demand recordings. Some of the people in class were teachers from Kwantlen Polytechnic University; and I got to see them absolutely "smoke" the test in record time. In contrast, I stayed for the full four hours and left the exam room hungry and dehydrated.
The session cost $100 and the manual covered material that people mess up on the test. I thought it was gold for someone challenging the exam. I'm one hundred percent convinced I wouldn't have passed without this course. For one, it showed me what exactly was on the test; and two, it gave me more confidence. I still have my notes from that day.
My mentor, Egan Davis
The teacher, Egan Davis, is a plantsman and overall a great guy. Just Google him and see. He ran the UBC horticulture program and then moved to a municipal job. I've also attended many of his presentations. I distinctly remember the last lecture I saw him deliver because it was just as the pandemic was hitting. Some of the attendees in the small lecture hall were already fist-bumping which confused me. But not for long. Soon my day-job employer would face pressure online to shut down his business; he didn't!
Davis knows a lot about plants and his overall great knowledge shows in the exam preparation workshop. He's knowledgeable and confident. Once you grab his email address, you have a mentor for life.
Just do it!
If you want to challenge or take the Red Seal exam, this workshop is for you. And now you can do it from the comforts of your home. Buy the study manual and watch the one-hour video anytime you want. I highly recommend it because the study manual covers material people mess up. It obviously can't cover in one hour what apprentices learn in four levels.
I recommend this workshop to everyone: challengers with work experience and apprentices who have gone through all four levels. Good luck!