This blog will show you how to make your own laundry detergent, save money, avoid industrial chemicals and wash your work clothes well. It's a long season outside for all landscape professionals, in all kinds of weather. Clothing gets filthy and beat up. We wash it almost daily since company uniforms with logos must be worn. Follow the steps below and save money on laundry detergent for your work clothes.
Credit: the idea and actual procedure comes from a book called "397 ways to save money". I tried it out and a blog was born.
Step 1
Find leftover soap bars or get a third of a new bar. Warm up 1.5L of water and cut up the soap bar into it. The smaller the better. Gently stir until the soap melts. I use a "retired" pot to avoid unnecessary conflict with my wife.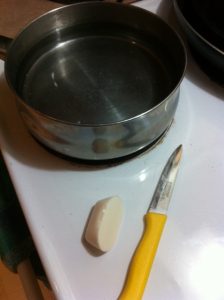 Step 2
Add 125ml of washing soda (not baking soda) and 125ml of borax powder. Stir everything until it dissolves. Don't over-boil it as it can get quite messy. It's best if you have the kitchen to yourself and your partner is out of the country. (The box labels remind you that the powders are NOT to be used for drug manufacturing!)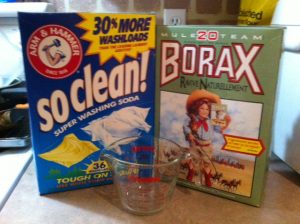 Step 3
Transfer the pot contents into an 8L container. I use two 4L milk containers. Top up with warm water. Let the contents settle for 24 hours.
Step 4
You did it! Enjoy your new cheap detergent.
Yes, you can make your own laundry detergent, save money and avoid nasty industrial chemicals.
When I first told my co-workers I made my own laundry detergent on the weekend, I got puzzled looks back. Some even felt sorry for me, asked me if everything was fine at home and offered me financial help! I'm happy to report that my clothes are fine and the powder boxes make a lot of detergent. But don't just take my word for it. Try it out and save some money. Post comments below this blog.