So you made it, you passed your written and practical exams and now you're Landscape Industry Certified. Great. Now the hunt is on for education credits and this blog post will show you how easy it is to collect them.
Requirements
The requirement is 24 CEUs every two years, ending on December 31. I renewed this year so my next renewal will be on December 31, 2019.
The renewal fee is $84.75 and the form and payment must be sent on time to the Canadian Nursery Landscape Association. There are late payment fees and if you leave it really late, they will make you re-write the tests. So renew on time.
Yes, I know, it's a nice money grab but it forces you to learn which is excellent. And you should be able to pass the renewal cost on to your employer. Your employer in turn looks good for having certified professionals on staff.
So how do you collect the required CEUs? Take a look at my last CEU report.
Trade shows
Attending trade shows is the best way to score CEUs because you get to mingle with other professionals while you do it. I usually attend the CanWest Hort Show in Abbotsford, BC, the best trade show there is in British Columbia.
Last year I attended the all-day Urban Foresters Symposium which often features Ph.D. speakers who are extremely knowledgeable and articulate. Lunch is included in the $200 fee.
I also took in some plant seminars, each lasting 1.5 hours.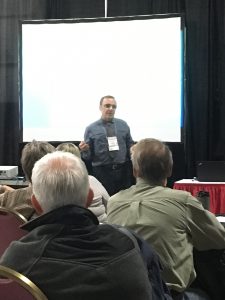 Books
I used to struggle with book reading time estimates until I discovered audiobooks. Now it's a breeze because the listening time is clearly shown. I strongly recommend Peter Wohlleben's "The Hidden Life of Trees" book. It will change the way you look at trees. Forever.
Finding appropriate books for CEUs is easy. It's normal for me to finish one book while I work. I highly recommend Audible.com.
Bartlett Tree Experts
Bartlett invites clients every winter to their client training seminar so my boss sent me. And it was worth it. It was snowing lightly outside so it was nice to be inside with hot drinks and great lectures.
Finding lectures and seminars is easy. Van Dusen Botanical Garden also puts on many lectures that qualify for CEUS.
Blogging
As a professional blogger I could point the CNLA to my published blogs. And I will do the same for my next renewal. I find I learn lots by writing about landscaping, gardening, trees and horticulture.
So don't worry about collecting CEUs. Passing the CLT tests was the hard part.