Yuzawa
This past August we made a trip to Western Japan to celebrate my father-in-law's medal. He received his Order of the Rising Sun from the Emperor for his contribution to Japanese construction industry. That required a formal party and full family attendance. Thus the two week visit.
The one trip we made out of town was to Yuzawa kogen, a ski area in the alps. It used to be a huge playground for people in Tokyo looking for some weekend skiing fun. Then, a new bullet train line was built to Nagano and people stopped coming. The snow is better in Nagano! Ouch.
Unlike Vancouver, you can buy an apartment in Yuzawa for $20,000. Some people from Tokyo jumped on it. Fathers commute to Tokyo by bullet train and the family lives mortgage-free.
A quick seven-minute gondola ride took us up into the alpine area. As you walk out, you notice a huge beech tree (Fagus) to your left. It turns out, at 350 years old, it's on the Japanese top 100 oldest trees.
Alpine area landscape maintenance
As my kids enjoyed free play and overpriced ice cream, I stopped Kosuke from line edging the walkway in the alpine botanical garden. I introduced myself and asked him what he did in winter. Skiing, of course. Note the protective apron and shield. His machine says Kioritz, which is one of three names manufactured by Yamabiko Corporation. In BC, we know the other two names well. Echo and Shindaiwa. I personally own Echo machines and couldn't be happier. My company uses Stihl.
On the other side, to my left, his older work mates were taking a break in the shade. It was late August and temperatures were approaching 30 degrees Celsius. Their job was to clean up and weed between plants after the line edger had gone through. This technique totally works in this setting. In BC you will see landscape companies fall behind on finesse work and then, in desperation, the line edger will enter planted beds. Beds it wasn't designed for. Then you get the usual plant carnage.
Once we got back down the hill, we enjoyed hot spring baths at our hotel. The swimming pool was extra charge (major fail). No tattoos allowed! Now you know.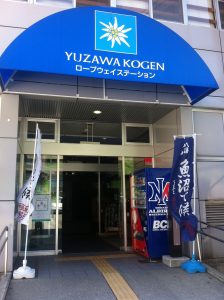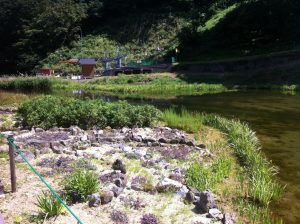 If you ever take the super-express bullet train from Tokyo to Niigata, stop at Yuzawa.