One picture summary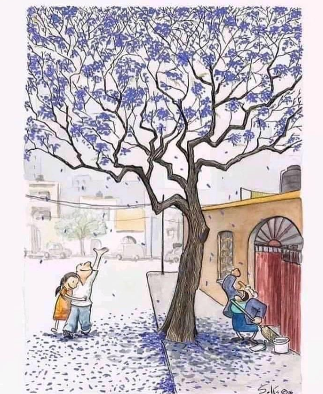 Now, take a good look and decide which tree owner you are. I am a green industry professional and I own a green blog so I'm the guy on the left, obviously. As an aside, I must say that my wife doesn't cling me like this while we admire the beauty of trees. That was way before we had kids.
I rarely consider the drop on the ground, until I have to clean it up at work. I never considered trees "messy". That's absurd. Just last Friday, we cleaned-up sweetgum (Liquidambar styraciflua) seed pods off roadways and it didn't bother me. I love the way the seed pods look, all spiky, like World War II floating mines.
The real challenge at work and outside is to convince the person on the right that trees are good. They're not "messy". You'd be surprised to learn that there are many tree haters. Recently, I went for a site walk with two ladies in White Rock and they proudly informed me of the number of sweetgums they had managed to clear-cut off their property. So, I nodded politely and cringed on the inside, all the while wondering if they enjoyed free oxygen.
Fun exercise
Let's have some fun. Grab a pencil and some scrap paper and try to think of the benefits trees provide for us, free of charge. What is referred to as eco-system services.
I will do this exercise right now, in this blog post, without any preparation. I will list whatever comes to my mind. No assistance from Google. If you do it, you might change your mind about the trees in your garden or your strata complex.
Don't look at my list below just yet. Try the exercise first.
We need trees- Vas takes the challenge
oxygen production
shade
bird and animal habitat, including dead wildlife trees
cooling in cities which tend to act as heat islands
beauty, including fall colors
medicinal use, e.g. bark, fruit
edible fruit
soil and bank stabilization
stormflow control (forests absorb water and release it slowly)
inspiration, e.g. when you see trees thousands of years old
carbon storage, crucial on a warming planet
building materials, my least-favorite benefit
micro climate, your home climate would be different without trees
annual wood production through coppicing and pollarding
climbing fun for kids
hammock anchoring
blog post topics
leaf mulch for planted beds
lessons, I had no idea there were winter-flowering cherries in Japan
Now I have to stop. How did you do? Remember, we need trees on a warming planet so take care of the ones you have in your garden or common property. Get to know them and plant new ones, if you have space. Maintain them well. Message me if you need help.