Cherry blossoms are bittersweet. They are beautiful but they don't last very long. Like life. Out on a walk with my kids one day, I snapped a photo of  spent cherry blossoms on top of moss and the bittersweet idea popped up again.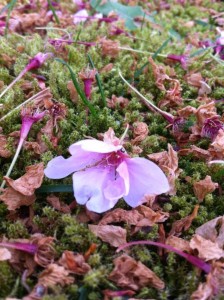 Then the news broke. The City of Vancouver lost one of their most experienced arborists in a work place accident. I never actually met Jody Taylor (1974-2016) but I know people who had worked with him for years; and they are sad. Devastated. He was a total tree professional. The City of Vancouver arboriculture department will never be the same. As a certified arborist I feel their pain. It's a tragic loss for all green professionals.
Sometimes a cut can go wrong. I don't fall trees personally but let us say there are two cuts to make. The front notch and the back-cut which drops the tree. When everything goes well, the trees falls over and crashes to the ground. Done. Next.
But as I recently found out, when the cut goes badly the tree can "barber-chair". When the back-cut is nearing completion, the tree cracks and splits, sending the back end violently up. The tree then snaps at the end of the initial crack and who knows where it falls.
Speculation was that Jody's back-cut didn't go well. Pruning Catalpa trees in an elevated bucket, it would appear, from what I heard, that Jody's branch was most likely too big. It didn't fall down, it barber-chaired, the back end shot up, the branch snapped and rolled down the bucket arm all the way to the bucket. It crushed Jody in the bucket. He was rushed to hospital but succumbed to his injuries. He leaves a ten year old daughter. I believe there was a fund established to help her pay for future schooling. Contribute if you can.
When you go outside to work remember Jody and stay safe. Municipalities have regular safety meetings; private sector companies are encouraged to conduct regular tail-gate meetings to discuss safety. Sadly, sometimes things go wrong.