If you read my blog posts consistently you will know that I'm not really a machine kind of guy. But as I found out, learning to use a new machine can be a fun way to spend your day and it stretches you a bit. This is exactly what happened on my stump grinding day.
The goal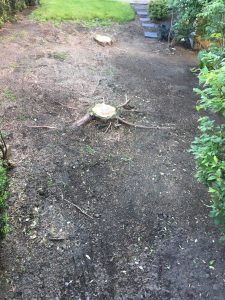 The goal for the day was to annihilate the two stumps, level off the bed with new soil and install a row of cedars (Thuja occidentalis 'Smaragd') to separate the two units.
Step 1
I rented the stump grinder at Home Depot. It's cheaper if you can fit all of your work into four hours. Otherwise you will have to pay for the whole day.
Because the machine is heavy my boss had suggested asking a passerby for assistance. Unfortunately, I only saw teenage girls heading to school and it would have been suspicious asking them for help with a stump grinder. So I called for help.
There is only one trick to the machine. When you're ready to stump grind, activate the black lever on the left. It locks the left wheel in place allowing you to rock the machine blade side to side over your stump. That's it.
I really enjoyed doing this by myself without anyone kibitzing and it worked out. Only later I learned that a little boy in the window had a blast watching me.
Once the stumps are erased, you will have to rake up the wood debris and remove it. Also, don't forget to clean up the machine or the Home Depot attendant will have a fit.
Cedar hedge
Digging through the middle of this bed was actually very hard because I ran into heavy clay. Soils in the Lower Mainland are mostly clay but it's hard to tell because new developments sometimes have engineered soils installed. And they don't look anything like the native soils.
New cedars installed in spring will require consistent watering so they can get established. Both units were alerted but sometimes I wonder. I reminded them to slow soak the cedars; quick spray from a hose isn't really watering.
The new grass seed, on the other hand, will need gentle sprays to achieve germination in one week or so.
This was a fun day for me because I got to transform a bare area into something new. And in the process I got to practice stump grinding which means that next time I will be super confident. Both residents were delighted with the change and promised to water religiously. God help them.