So you have one last service before the Christmas holiday. Now is a good time to double-check everything, especially the key 'beauty strip' zones like clubhouses, front entrances and mail boxes. This is the worst time to start pruning projects. Just make sure the site looks great because residents are bound to receive visitors over the holidays.
Coreopsis
My task on one site was to cut back all remaining spent Coreopsis perennials. Since the foliage was turning brown to black it was time to flush cut all of it and leave it until next year.
Coreopsis has fine foliage and beautiful yellow flowers that are hard to miss. It doesn't require any maintenance other than some water and end of the season flush cut. That's it. And for all that we get a great show. Year after year.
Most of the Coreopsis clumps are placed in narrow front entrance beds or so called 'finger' beds. They work very well in these locations.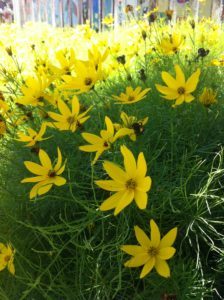 Show is over
When the show is over, you can treat Coreopsis like most perennials by flush cutting the spent foliage. This was actually a great task for a frosty December morning. I helped with finesse bedwork but my job for the day was to eliminate spent Coreopsis. I also cut back other perennials like Ligularias and Rudbeckia stems which I considered unsightly. You can read my Rudbeckia cut back blog here.
If you have a small patch of Coreopsis you can do the work with hand snips easily. Just grab a handful and cut it as close to the ground as you can. In my case, I had lots of large patches to take down which required the use of power shears.
Remember to always use good protective equipment and try not to stick your blades into the soil.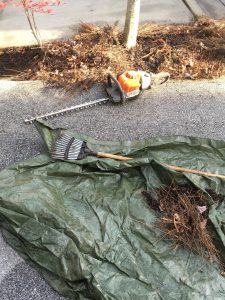 Corepsis vs. Horsetail trick
Also, Coreopsis can help you cover up areas invaded by Horsetail. Instead of fighting the Horsetail, which is a basty weed, you can plant Coreopsis around it because both plants have similar fine foliage and the yellow Coreopsis flowers naturally draw your eyes in and away from weeds.
You can read my blog about this trick I learned from municipal gardener Tracey Mallinson.
If you don't have any Coreopsis in your garden then perhaps you can get some for 2018. I find the yellow flowers very warm. And when the show is over, all you have to do is flush cut the spent flowers. Give it a try.