I love the early summer season. The weather is nice and the landscape is lush green. But with the new lush green growth come issues. People start panicking and assaulting their busy green workers with requests.
And often the requests turn out to be minor issues, easily solved with a bit pruning. For any bigger requests, write them down and do them on your next visit.
Let's take a look at some recent examples.
Mailbox crisis
Last week I was approached by an elderly gentleman who clearly wasn't impressed by the mailbox Clematis. The vine interfered with the pick up of his junk mail so he asked me to take care of it. Sure. The whole operation, not counting clean-up blow, took me about ten minutes.
Gate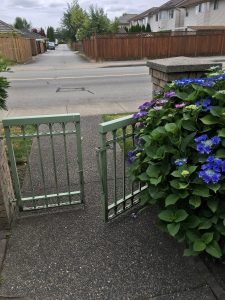 Again, this is hardly a disaster. Plus, the Hydrangea is blooming nicely. But to the lady living in this unit this is a major annoyance because she has to push the gate open. And as she does so the gate bounces off the plant and back into her body.
Luckily, I was on site helping out and took care of it right away. Always do this if it doesn't interfere with your day plan. Of course, I did warn her that she would lose some of her flowers. No big deal. She didn't care.
Signs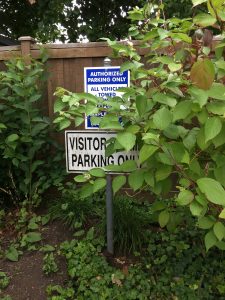 Signs are posted for a good reason; to warn or inform, not for fun. And again, this was a quick fix with my hand snips. The dogwood shrub (Cornus) can also be power sheared but I prefer nice precise cuts.
As plants push out new growth in early summer you can expect to get some interference. Usually it's not the disaster people make it out to be. So take care of it right away if possible. All of the examples above were quick fixes and the residents appreciated it. Always make your clients happy!