Proper landscape maintenance requires good planning. Depending on the size of your site, there should be a clear rotation so that every corner of your property gets serviced.
Jumping helter-skelter through your sites could lead to disaster. And yet, as much as you try to stick to your plan, requests and emergencies can side track you.
Requests
Small owner requests should be done right away, unless strata approval is required. For example, you can't remove a small landscape tree just because Mrs. Rose from unit 6 wants it gone. But, if she has a few big weeds by her entrance, take care of it right away.
Bigger requests should be noted and pushed to your next visit. Try not to stray from your plan for this week but do write it down so you don't forget.
This happened to me recently at a new site. The owner had asked me to re-stake his Styrax japonicus tree but I didn't have a staking kit. So I promised him I would take care of it next week but I failed to write it down. Then I was slightly red-faced when he asked me about it the following week. Always write down requests that can't be done on the same day.
The tree is now re-staked.
Emergency obstructions
Some tasks are more urgent. Like the exit walkway pictured below. As soon as I saw it, I knew it had to get done today. It's just too annoying for people accessing the building.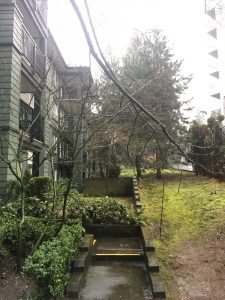 The big branch belongs to a mature Pin Oak (Quercus palustris) and it's leaning on a vine maple (Acer circinatum). Since I didn't have an extendable chainsaw, I pulled down the big branch and used a hand saw. It's not pretty but at least the residents will not suffer any injuries.
Take care of walkway obstructions right away.