A few years ago I met a home owner at one of our sites and she told me about her annual lady beetle buy and release events. I smiled politely and privately thought she was insane and had way too much disposable income. She paid $16.95 retail plus tax for a bag of lady beetles. As we learn from the fact sheet below this biocontrol business is extremely lucrative.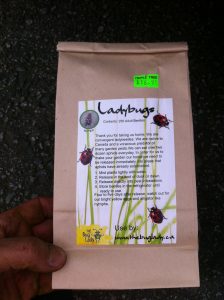 Now, a few seasons later,  there is a new Fact Sheet from the University of Washington Extension that clarifies the issue and it happens to be co-authored by my favourite horticulture scientist Dr. Linda Chalker-Scott.
As it turns out many gardeners buy lady beetles for their gardens and landscapes. And the fact sheet concludes that "release to open gardens and landscapes is unlikely to be successful." Now my burning question is answered.
Control
Adult and larval beetles control aphids and scale insects, mites, beetle larvae and immature bugs.
Aphid problem
The site mentioned above has lots of tulip trees (Liriodendron tulipifera) which are known to attract aphids. The aphids suck on the new leaves but otherwise don't harm the trees. Incidentally, don't miss tulip tree flowers. They are spectacular.
Since aphids can't process sugars, they excrete them. That's why honeydew drops on leaves, cars and sidewalks. Then lady beetle sales go up. The lady swore that her lady beetle releases are effective. OK.
But perhaps you don't have to spend your after-tax dollars on lady beetles. What if you can attract them naturally? Grasses and wildflowers will attract them to your gardens. Lawns not so much.
As we learn from the fact sheet, lady beetles eat fungus, fruit and occasionally vegetation. Adults look for sugar sources such as nectar or honeydew. These energy-rich supplemental foods improve lady beetle reproduction and survival over winter.
Take it easy on insecticides because they kill the target pests and natural predators.
Good or bad idea?
There are some negative aspects to this whole biocontrol business. First, we are removing populations from their natural ecosystems which may not be a good idea.
Second, native beneficial insects may suffer when we introduce non-natives. And third, introducing lady beetles may transport parasites.
Conclusion
In conclusion, I must say that the lady gets a gold star for spending $16.95 plus tax on a bag of lady beetles; and for inspiring this blog post. As we know from the new fact sheet, these lady beetle releases are unlikely to be effective. And yet, she swears by them. Perhaps the tulip tree honeydew attracts the lady beetles naturally.
I say, try to attract lady beetles naturally and save your money. Perhaps you can donate some cash to the University of Washington Extension so they can produce more science-based fact sheets.