Before we get to the title question, let me set this up. Some weeks ago I walked into a local store looking for summer fertilizer. No luck. But I did find several specimens of Orange New Zealand sedge (Carex testacea) marked for clearance at $2. Two dollars? That's right, just two dollars for a sedge with attractive foliage. And you don't have to touch it all year. I bought one for each hand and walked out with a smile.
Now, why wouldn't a sedge fly off the shelves? Because it doesn't sport any bright colours!
Beauty or chaos?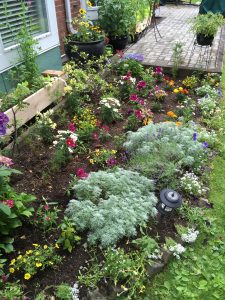 Can your beds have too much colour? When I see beds like the one pictured above I feel chaos because my eyes don't know where to focus. I need calm and tranquility. And of course, this is all super subjective. I'm sure the owner is super happy about her garden.
I'm not judging anybody. I'm happy people have time to garden because it's good for them, both physically and mentally.
Also, I'm not a garden designer. If I was, I would know the technical terms for too much colour. I just know my feeling of unease. So I had to write a blog post about it so I can let it go.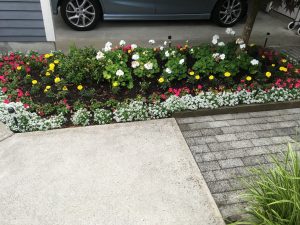 Once again, this is too much colour for me. When I walk by, this bed does nothing for me because my eyes can't rest.
Tranquility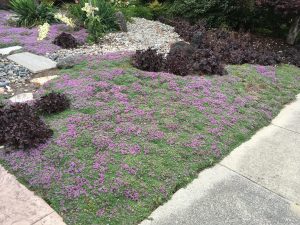 This is what I like. And you had to expect it from a dude who considers a $2 sedge a bargain. The flowering Thyme attracts lots of bees and it's nicely bordered by Corral bells (Heuchera). Heucheras produce nice white flowers but they're not super showy. It's their deep purple foliage that rocks.
The yuccas add more white colour and height to the presentation. Best of all, my eyes aren't pulled in many different directions. I can enjoy the view in peace. There, I said it, and now I can let it go.
Enjoy your garden this summer!