On large strata (multi-family) complexes you can expect to get some negative feedback during the season. Normally it's addressed as soon as possible and if you're lucky, the strata unit gets educated. But how do you handle a full-blown meltdown?
Keep it cool
Definitely keep it cool. For me it's easier now that I am a supervisor of a certain age but it's never pleasant. So, first, take a look at the picture below. What do you notice?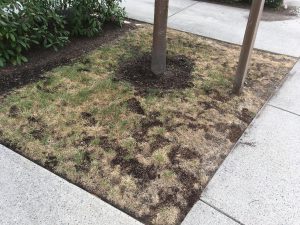 Obviously, the lawn is dormant because it's early August on the West Coast and the lawns aren't irrigated. You will also notice pockets of new soil and seed.
Now, the owner of the unit (remember he owns his house, the lawn belongs to the complex) came out storming about the bad condition of his lawn. So I told him it needed water and that set him off. He told me there was no need to be rude; he was 55 and well-aware that lawns required water! Really?
Here I took a deep breath and insisted that there wasn't anything rude about my comments. For the lawn to look green during an early August heat-wave and for the seed to germinate he had to water his lawn thoroughly several times a week.
Incidentally, if you're new to the West Coast, dormant lawns will green up with fall rains.
Still red in the face, the man showed me his broken hose nozzle and insisted one of our workers stepped on it. So I sucked it up and bought a new nozzle for $20, tax-included.
There were some other complaints that don't need to be listed here. They should have been sent to the strata.
Lessons
Obviously, getting through the whole year without any complaints would be ideal but some sites are huge and they're populated by all sorts of people. So what lessons can we draw from this blog post?
a) There will be some negative feedback no matter how well your season goes. When strata councils change you can expect even more hassles as new members try to put their stamp on things. At this complex the strata council is new.
b) Strata owners should go through their strata councils and management companies. Assaulting landscape workers on site is not the proper way to handle it.
c) Non-irrigated West Coast lawns will most likely go dormant during the hottest parts of summer. Don't panic because they will recover with fall rains.
d) Keep calm and stay polite because you represent your company. But don't be afraid to educate your clients. Clearly, the owner knows about lawn watering but he isn't doing it. His new soil and seed were dry. I watched him water later and it can best be described as a gentle sprinkle. I wasn't about to show him how to water his lawn properly. He's 55, he can figure it out. (The lawn requires a nice deep soaking a few times a week; always follow any municipal watering restrictions.)
e) Let it go. I've had to learn to let go of things as a supervisor. I answered all questions where I could, I bought a new nozzle, took pictures and notes, and notified my vacationing boss. Writing this blog post is therapy.