Since most clients have jobs and don't get to see their landscape maintenance workers, they put up sings. And now that the pictures are accumulating, I thought it might be fun to share some of them in a blog post.
Warning
Sometimes not seeing strata clients can be a good thing. Once, many seasons ago, I was sent to a nasty site to save it. It was obvious that the regular crew wasn't managing the site properly. First, I took two helpers and cut the large site by lunch, not over two days like the regulars. Of course, this completely soaked my work shirt with sweat. I find that many new workers aren't ready to suffer this much, worried as they are about their pay rates.
Second, we picked the weediest beds and attacked them in logical sections as a team. If you split up and approach your site in helter-skelter manner, you will be doomed. Always work as a team and methodically.
Third, a terrible idea came to me. I decided to stay longer and fight the weeds after letting the crew go home. Except, the home owners started coming home and they were mad! People came out to ask me about the horrific state of their units and I had very little to tell them. Afraid for my life, I packed it up and left. My then-employer lost the maintenance contract shortly after that.
Fun with signs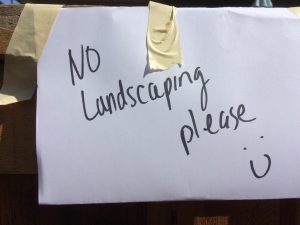 This is a good sign. We can move on to other pressing tasks. No problem.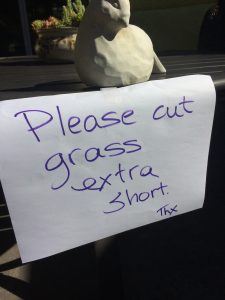 This happens a lot. Extra short, extra long, or not at all. We adjust mower heights and cut. Just remember to put your wheels back to their original height.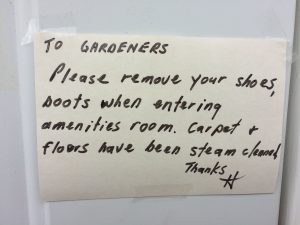 We are lucky to have a proper washroom on this site. It's not always the case. On some sites we have workers driving off to answer their nature calls.
Getting young dudes covered in grass clippings to clean up and shed their boots isn't always easy.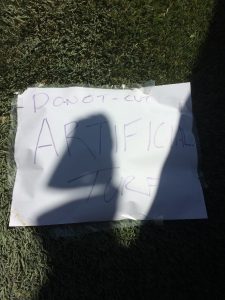 These people had recently made the switch from grass to artificial turf and left a reminder for our young guys. As European chafer beetles attack, heat waves hit and dogs urinate, owners like these happily invest money and switch. It means less maintenance work but the soil underneath is doomed.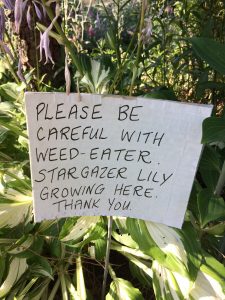 Directly in front of this sign is a decapitated lily and I feel for the lady. It means the crew leader has more training to do with his line trimmers. Zero damage is the goal. I find that middle-aged women especially are attached to their plants. Destroying their plants isn't good landscape maintenance. Be careful. You are the guest on site.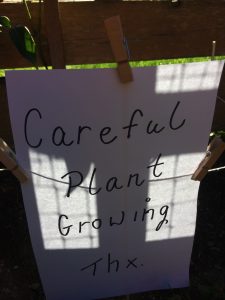 The owner of this clematis is pro-active so the vine is still intact. I just hope the line trimmer dude slows down enough to notice the sign. To be fair, the dudes are asked to perform their tasks quickly and perfectly. It's easy to forget to look ahead.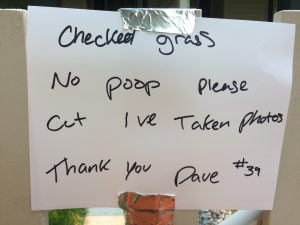 This sign must be included because dog waste problems are horrific in landscape maintenance. This couple neglected their grass so badly that all of our mowers ignored it. Then the owner got upset, made phone calls using expletives and shouted obscenities at our workers. Now, finally, they pick-up like they were supposed to from day one. I was filling in for a girl on vacation last week and mowed this place without incident.