A few weeks ago, I got called to a Coquitlam home about a tree pruning job. Perfect! I love this kind of work, as long as it does not involve climbing the tree. But this turned out to be a horrible project. The Acer palmatum in front of the house had already been severely topped once in the past and the owner wanted it crushed again, even more severely. I mean massive topping cuts on all major limbs. Then the lady asked for a senior's discount! I mentioned crown reduction as an alternative to topping, and listed some of the major problems with the practice of topping trees. It did not help. This was my order: massive tree topping with a discount.
Now what? Take the cash and run?
Since ISA membership requires all arborists to sign a code of conduct, the decision was easy to make. Destroying a tree also feels bad. I politely declined the job and literally days later found rhododendron reduction work without any senior discounts. Somebody completed the Acer palmatum job (see picture below) but it was not as severe as first indicated. Complete removal would have been a better option.
This then brings us to the difference between a client and a customer. We want lots of good clients, people we can educate and charge fair prices. Customers are all about pricing and insist they know what they want even when there are better alternatives leading to better outcomes.
In an Arborist News story, several years back, an arborist knocks on the door and a lady opens the door. The tree professional then tells her he got a call about a tree in the back. The owner looks at him and tells him that "hired help" uses the side gate, not the main entrance. The arborist looks at her and politely tells her that he needs new clients, not more customers, turns around and leaves!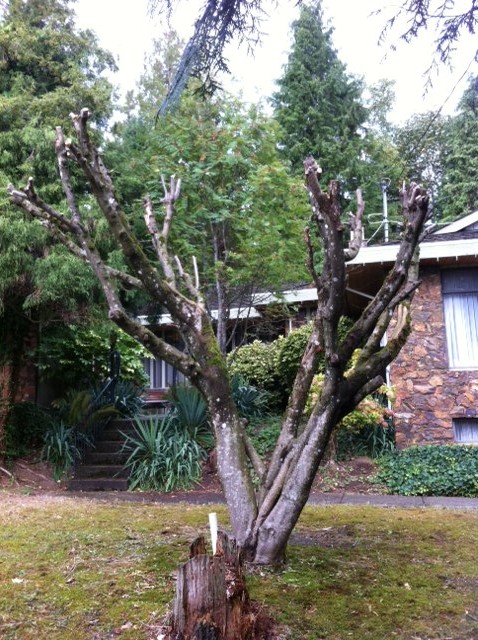 Finished job!? I was asked to go another 3 feet lower