Don't do it!
Tree topping rules are straight forward: don't do it! I was stunned recently at a site in White Rock, British Columbia, when I saw a topped Persian ironwood (Parottia persica) tree.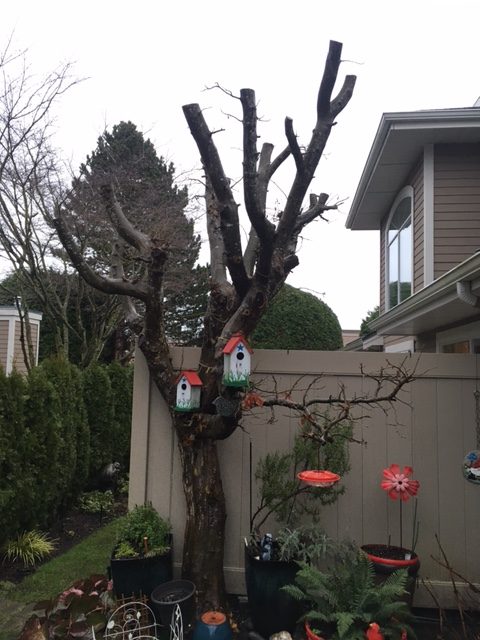 Persian ironwood trees are bulletproof. They don't suffer from any diseases, the branches have interesting look and their fall color is spectacular. You can't do much better when deciding on a landscape tree. But this owner had his own ideas; and it helped that he was the strata council president. That's how it works. If you're not on council, you won't get approval.
If you're feeling crowded, then take out the whole tree. But that's very complicated nowadays because municipalities now care about tree canopy cover percentages. Unless your tree is dangerous, it's difficult to get a removal permit.
I suspect, if the municipality knew about this tree topping, they might issue a ticket. It's a nasty procedure. So nasty, I had to compose this blog post about it. So nasty, the International Society of Arboriculture (ISA) publishes a handout about tree topping.
Future growth
The tree will now push out new sprouts and the president will have to hack them down every year to keep the tree at the same height. If you don't remove the sprouts, they will develop into poorly attached shoots.
Another drawback is that it no longer looks like a Persian ironwood tree while the other specimens nearby still look great. It's a weird effect.
Trees also store food in their branches and heavy removal can cause serious shortages for the tree. They also need lots of leaves to produce food and topping removes huge chunks of the tree crown where leaves would have developed.
Also, large wounds like these may not heal and could potentially invite insects and diseases in. Generally speaking, three inch diameter is your rule. Any cut bigger than that, may be slow to heal.
With huge sections of the crown missing, the bark can also get injured by heavy sun exposure.
Conclusion
Don't top your trees!