One of my earlier blogs showcased my plant ID picture book specifically targeting strata landscape plants. New workers would come on and they would ask me the same plant identification questions over and over. Now, as a landscape supervisor, I'm paid well to help out as much as I can. But it does get repetitive. So I self-published an eBook on Amazon's KDP with 100+ of the most common strata landscape plants.
Practice
It took a while but the whole thing finally clicked with a new worker last week. She stared at a Viburnum davidii shrub and asked me if it was a Portuguese laurel (Prunus lusitanica). No, it wasn't. Then she sighed and expressed her frustration with plant identification.
And I was ready! Why get frustrated when I put together an eBook for people like her. It's nothing special. It's just a simple picture collection of the most common plants we see on our strata (multi-family) sites. For the price of one regular Starbucks coffee you get a list of plants you're guaranteed to see on your work sites. No tropical plants or vegetables, no fluff to waste your time.
Once you cover the basic 100+ plants, you should be good to go. Yes, the plants don't repeat completely but I can handle questions about beautiful Ligularias. Viburnum davidii are fairly common.
Amazon
So the girl went home and bought a copy of my eBook. It's a simple process and it's extremely cheap. And every sale boosts my Amazon ranking, which is updated hourly. That's why my Facebook post was called "#1 for an hour".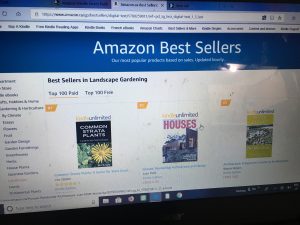 Why plant ID?
Plant ID is a critical skill for landscapers. Knowing plants speeds things up on site and avoids many embarrassing mistakes. It's also something bosses expect you to have. After all, this worker wants to be in a foreman position next year which will lead to better pay. I will help her as much as I can, now that she's my "client".
I'm really happy that this whole thing worked out the way I envisioned it.