Dandelions (Taraxacum offcinale) didn't become unwanted weeds until the twentieth century, probably just as green lawns became the norm for detached houses. Ted Steinberg shows us how the whole quest for perfect lawns happened in his book "American green." This blog post will show you that you can actually have some fun pulling dandelions from your lawn.
Strata setting
Stratas or multi-family complexes also demand lush green lawns so that's why I got to pull dandelions one afternoon from high-profile front lawns. And after mowing for four hours straight, it was a welcomed cool-down task.
The yellow dandelions stick out too much and kill the green monoculture look so they have to go. And I had a great, sunny afternoon at work pulling them out.
Fiskars tool
This was also my first time using and testing Fiskar's weeding tool which promises easy weeding without bending over. Great. The tool worked perfectly fine but allegedly some of the other units fell apart quickly.
Step 1
The unit has a plastic orange slider which gets the tool ready like a one-shot gun. Pull it up and get ready to aim.
Step 2
Aim the tool right over the dandelion leaf rosette and plunge it in. You need good aim and decent soil. Our lawns were fine so forcing the tool in was relatively easy. My aim took a bit of time, especially when the plant was smaller. I still had to bend over to pick up leftovers and pull out very stubborn specimens.
Step 3
Step on the black plastic bar. This tilts the tool and pulls up your dandelion, assuming your aim was good. No bending over required.
Step 4
Move the plastic orange bar down to release the captured weed. This step reminds me of removing a spent gun shell. Definitely use a tarp for your weeds unless you're mowing the lawn right after. I brought a wheelbarrow with me.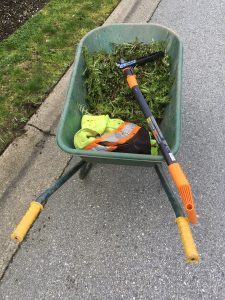 Cool plant
According to Wikipedia, in the past gardeners used to weed grass from around dandelions. How things have changed. I remember playing with dandelions as a kid but now as a landscape professional I'm not allowed to tolerate them in the landscape.
I knew you could make tea from dandelion roots because once I bought a box and actually drank the tea. And you can eat every part of the plant. The roots are best consumed in late fall or winter when they're not as bitter. Both flower buds and leaf rosettes can be eaten.
I don't want to list all of the health benefits here but let's just say dandelions contain a lot of good stuff. I think they're amazing plants.