First visits on new contract sites are exciting because you never know what you will find. Chances are only the big boss has seen them. But as far as plants go, you shouldn't expect too much because strata complex plants in British Columbia's Lower Mainland tend to repeat.
So when I recently worked on a new site I was surprised to find many heavenly bamboos (Nandina domestica). And I mean many. I almost feel like the shrubs were on sale when the site was built. Which bring me to a question. What's so special about Nandinas?
Red Berries
Nandina domestica is an upright, suckering evergreen shrub for moist, free-draining soil and full sun in a sheltered position. On strata sites there is definitely sheltering. Except I guess for boulevard corner beds.
Now for the obvious ornamental features: summer white flowers turn into red berries. The plant is grown for its red berries. Also, note the pinnate leaves.
Bushiness
Vigorous growth is produced from the base. This explains the suckering that goes on. Newly planted shrubs branch freely and this bushiness should be encouraged.
Pruning
Pruning can be done after a harsh winter and for shape. I gently snip the tops to bring the height down and cut out any stems that go side-ways.
Sometimes, long, unbranched stems are also thrown up through the plant. The correct procedure is to cut them down at ground level. If you prune them down they won't break from your pruning points.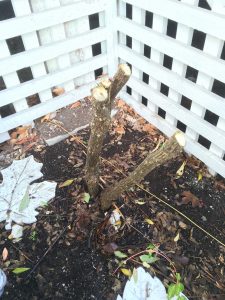 This pruning doesn't work. Nandina won't re-grow from the cut points. I cut these stumps right at ground level hoping they will re-grow from there. We will see in spring.
Nandinas are fairly common shrubs on strata sites. I think the pinnate leaf and red berry combination is nice. But on this particular site the planting was a bit overdone.
Common strata plants
If you're curious about what grows on your strata site you can purchase my pictorial guide on Amazon.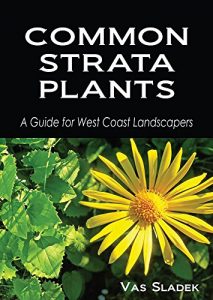 —————————————————————————————————————–
References: "Essential Pruning Techniques" by George E. Brown, Timber Press, 2017, p.231