Winter is perfect for checking your deciduous trees. Since the leaves are gone you can clearly see the branches. Ideally, you can do this work annually, making a few cuts each season. This should leave you with healthy, good-looking trees you know well.
No man's land
Some strata sites have out-of-the-way semi wild zones that don't get regular maintenance. Normally the idea is not to discriminate and, instead, attend to all areas equally. But on large complexes that's not easy to accomplish. So some areas away from the beauty strip get slightly short-changed.
This, then, was my mission. Taking advantage of the slower winter season I got to attack one of these wild zones. I will cover the maintenance work in a future blog post. Here I wish to mention a tree I ran into.
Since time was short, I did the obvious work in just a few minutes:
I removed stubs, dead branches and one crossing and rubbing branch which also reached into the road.
Stubs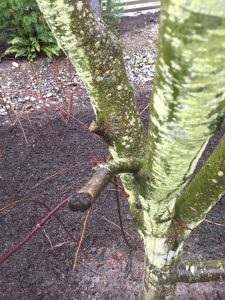 These are ugly cuts. Don't forget to make your cuts at the branch collar so the tree can cover up the wound. Otherwise the stubs eventually die, like the smaller one visible in the back.
Dead branches
Dead branches are dead so they are to be eliminated as soon as possible. They will most likely break off anyway.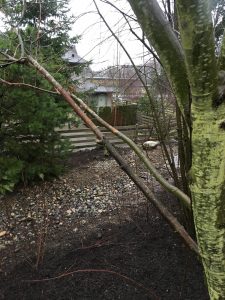 Crossing branches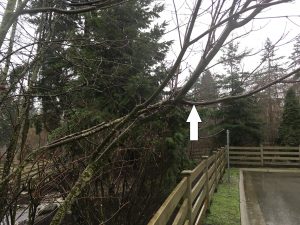 The branch with the pointer is a good candidate for removal because it crosses through other branches where it rubs; and it's growing into the street where it's likely to interfere with delivery trucks.
The final product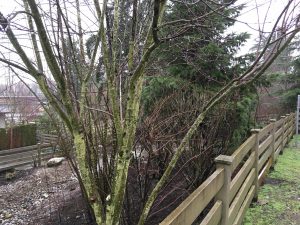 This is the final product with ugly stubs removed, dead branches gone and one crossing and rubbing branch that interfered with local traffic eliminated. And it took me a few minutes with my Japanese hand saw.
Is the tree perfect? No, far from it but why stress? I will be back in twelve months to do more work on it.
And if you need help with your trees, call Proper Landscaping. You can also learn more about tree maintenance from my inexpensive Kindle e-book. Landscape Tree Miantenance by Vas Sladek. Please leave a review.