Yes, winter weather can be a challenge for West Coast landscapers but I love winter because I have time to take care of details. Once spring hits, the days get longer and busier and all of a sudden it's hard to stop for minor adjustments.
Landscape editing
Rescued Rhodos
Just this past week as my helper and I were searching for missed corners, I discovered two Rhododendrons under the foliage of Viburnum tinus and Abelia x grandiflora. Now what? You can prune both shrubs to expose the rhododendrons or you can move the rhodos. I chose to move the Rhododendrons because the shrubs will grow back eventually. So be brave and edit your gardens and landscapes as required.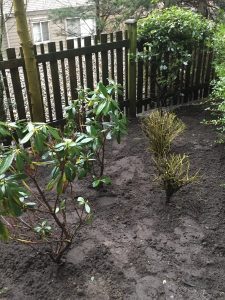 Both Rhododendrons were stuck by the fence in the far right corner. They will have more light in their new location; and we covered up dead space in the landscape.
Shuffled entrance plants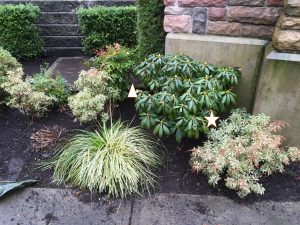 This is the after shot so it looks normal. Where the triangle is now, the back Nandina domestica was squeezed in between the Pieris japonica and the Rhodo. So I moved the heavenly bamboo shrub back a little to create much-needed plant separation.
Where the star is now, there were Rhododendron branches covering up the Pieris japonica on the right. So I snipped a few branches off the Rhodendron to create more plant separation. And the Rhododendron still looks normal.
Nandina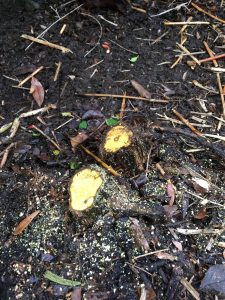 This Nandina domestica was very leggy, not the bushy little shrub we want. It was also jammed right against a Japanese holly (Ilex crenata) hedge. We already know that Nandina domestica doesn't regrow from pruning points. It's best to flush cut it and let it regrow. So we have a little experiment here.
If it regrows, it will match its bushy cousins nearby. And if it doesn't, well, then the Ilex crenata hedge will thank us. Either way, don't be afraid to edit your gardens and landscapes.
Many strata complexes look great when they are first installed but over time, as plants mature, we can't forget about plant separation. Often, complete editing is required. We move what we can. Some plants go missing altogether.
Have some fun with your landscape editing.