"58 and still hustling" were the only words accompanying the picture below in a Facebook group post. Love it or hate it, Facebook groups can be worth your while. I ignored the smart comments from various group members and started thinking about the larger issue of workplace ageism.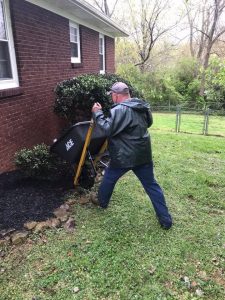 Ageism
According to an article by Nicole Gallucci published in the Globe and Mail newspaper ( May 2, 2018, section B10 Careers), ageism is becoming a challenge for businesses. It's defined as "prejudice or discrimination on the basis of a person's age."
In landscaping, age-related comments are often laughed off but the article states that 25% of employees make judgements about their co-worker's and supervisor's abilities to do their jobs based on their age alone. This rate goes up to 39% among millennials. I knew it.
So the young dudes are rushing up the ladder, trying to skip rungs and veterans like me know full well what kind of fight it was to make it up the ladder to a supervisory position. It took me about fifteen seasons to become a landscape professional with enough experience to pass the Red Seal Journeyman Horticulturist examination.
Ladders
Most workers try to move up to relief and full foreman jobs where leading a crew comes with more money and responsibility. My job as supervisor is to help them transition into their new roles mainly by working on their technical and leadership skills.
But what about the older workers? Gallucci writes that often companies forget about their older workers and their need to stay sharp and motivated. Personally I have plenty of motivation and I constantly seek out new courses and seminars so I can stay sharp and current.
Since landscaping is physically demanding I also try to stay in good physical shape. I know that the young dudes are watching; and I also know that not all of them are ready to sweat. Some are clearly spooked by their own sweaty T-shirts.
Tasks
If you're lucky, your boss is thinking about proper task assignments. For example, one day we had two important tasks after lawn care: installation of boulders and plant installation. I can definitely move boulders but as an experienced supervisor it made more sense for me to do the plant install. In addition, I was asked to show my young female helper how to plant new plants properly. We had a perfectly fine afternoon together and she went home with new skills.
The young dudes eagerly moved the boulders into place and everything got done.
This example illustrates how it should be done in the field. Gallucci calls it an "egoless team of minds". One team working together; all generations bringing in their talents and learning from each other.
The young guys bring energy and I bring experience and technical knowledge. That's how the company advances toward world class work.