It's always exciting to take on a new strata landscape maintenance contract because the assumption is that your service will improve on the service of whoever did the site before. The fine print in your contract details exactly what will happen during the ten or twelve months to come.
First visit
I love the first visit. You get to walk the entire site and assess the highest priority sections to get hit first. This usually covers main entrances, clubhouses and mailboxes. When the site is especially large, you will have to develop a nice rotation so your service isn't helter-skelter.
You also get to examine the dirty corners away from the main 'beauty strip' areas. Those corners that tend to get skipped or serviced very little. Previous pruning gets examined; and strata member introductions are made. No-go units must also be identified because some home-gardeners don't want any service in their yards aside from lawn care. This is critical so we can avoid upsetting residents at the very beginning of our contract.
Recent example
Let's take a look at what I saw on the first day of a new contract in Surrey.
Clean-ups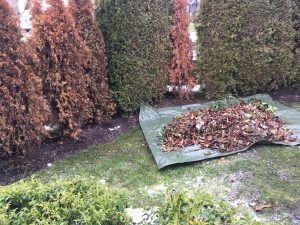 This is an obvious task. Any leafiness from last fall must be cleaned-up. Dead plants are a huge problem so in January we catalogue them so we can deal with them in spring.
Plant separation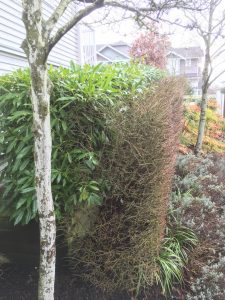 It would be nice to get some plant separation by shearing both the Prunus laurocerasus and Euonymus alatus.
Ivy removal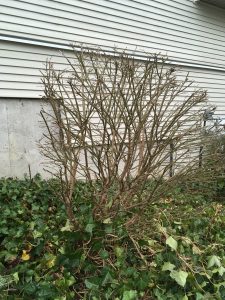 Left unchecked,  ivy (Hedera helix) will overwhelm the Euonymus alatus shrub. So I cut it away from the plant and cleared a circle around it. It will require attention periodically so the ivy doesn't take too many liberties.
Nandina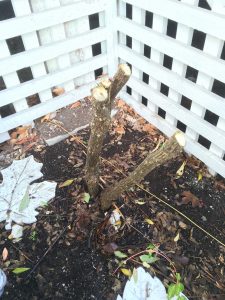 This doesn't work because Nandina domestica doesn't regenerate from pruning cuts. This plant requires a flush cut. It should send out shoots from the base, assuming it's not dead.
Trees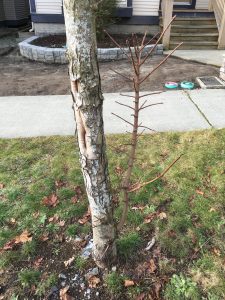 One quick hand saw cut will eliminate this unwanted branch. We don't really want branches developing this low, except on very young trees where the branches protect new bark from sun rays.
No man's land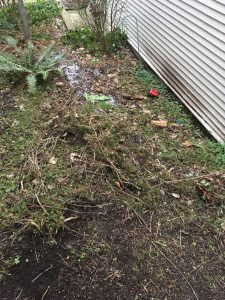 This is a classic no man's land zone between units. It receives less attention so it's weedy and full of garbage. Unless your landscape maintenance contract spells everything out, you can't discriminate. You must cover the entire site.
Holly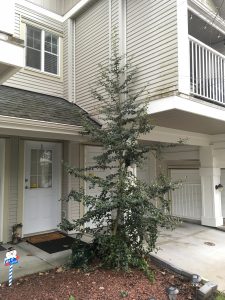 This holly was planted by the owners but long-term it will lead to problems because it's already touching the building. This gets insurance companies very excited. I suggest complete removal and planting something more appropriate and less prickly.
There you have it. Not a bad first day. This site should be looking great twelve months from now.