Why you should never trust metal grates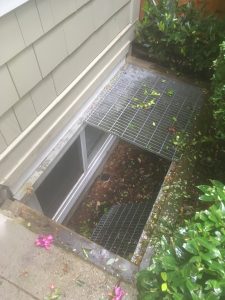 Never trust metal grates on your sites. I found out the hard way today after safely working on top of several sets while pruning shrubs. Then I got cocky by concentrating on my shrub pruning and not testing the grates. And one failed! As they sometimes do.
Luckily, I was using extendable shears so when I plummeted down the moving blades were far away from me. Unfortunately, during the brief fall my right shin met the hard edge causing me immediate discomfort. If I hadn't been wearing rubber rain pants and long pants my shin would have been much uglier.
I retrieved a first aid kit from one of our work trucks and, after washing the wound and dressing it, I drove myself to my local health clinic. There I was coldly told that the doctors there didn't do stitches.
Emergency
Aha. So, I walked to emergency nearby and waited.
After two interviews and a check of my vital signs I was moved to a bed inside. And I was ready with a print out of the July issue of the Altucher Report. Emergency doesn't mean urgency. It takes forever to see a doctor.
Once, when my son was a little baby he wouldn't stop coughing so I rushed him to the same emergency. By the time the doctor on duty showed up, my son was soundly asleep! Emergency, yeah right.
Dr. Quon checked my puncture wound and confirmed that I would need freezing and two stitches. And everything went well until he left his summer intern in charge of closing the wound. Let's just say she struggled a little bit.
It also didn't help that the patient next to me moaned non-stop until she got the medication she begged for.
Conclusion
Let's review: a) never trust metal grates on site because inevitably one will fail and b) make sure your company vehicles have first aid kits; you will need them one day and it also complies with WCB rules.
And don't get cocky, stay safe.