The Red Seal exam for landscape horticulture isn't easy and it shouldn't be because it gives you journeyman status. It's a tough exam so some people fail. I know a foreman who finished all four apprenticeship levels and then sat the exam unsuccessfully. It happens.
Since the exam fee includes a re-write, she took the test again. No luck. Now what? Luckily her boss is giving her a chance to float among crews and do different things so she can gain more experience.
Experience!
Red Seal candidates must realize that the Landscape Horticulture exam is experience based. The questions are worded so they test the candidate's experience, not just straight book knowledge. For example, you might be asked about a specific plant. Is it planted for summer foliage or fall berries? If you've never seen the plant in the field, you're stuck guessing.
The best learning moments come in the field. This was in my head last week as I was digging up an old, dog urine soaked lawn. Yes, the smell was probably detectable by NASA but this Red Seal had a job to do. And I welcomed the chance to practice installing new sod. To be perfectly honest, I haven't done very many sod install jobs.
Do it all!
This is my best advice for future Red Seal journeyman horticulturists. Do it all in the field. Use every tool and machine. Install new landscapes, keep plant tags and get very dirty. Like I did, digging up dog urine soaked soil so I could install new sod. This is how you become Red Seal. Do it all with a smile and collect your experience.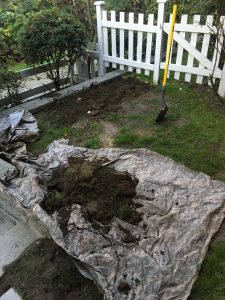 Keys to sod install
level everything off, roll it with a pin and apply starter fertilizer
stagger the sod pieces and fit them tightly together
water everything! Don't skip this step.
Happy ending
When you know you're struggling in one specific area then face your fears. I failed two modules on my ISA arborist test and studied hard to pass them. It helps if you're stubborn like me. I also had to do the "Planting and staking" station three times to become Landscape Industry Certified. No big deal. I studied and practiced and got my happy ending.
I'm convinced our foreman from this blog post will eventually pass the exam. But I think she'll need to face her fears and get help with calculations. In the meantime she's busy doing it in the field. The way it should be.